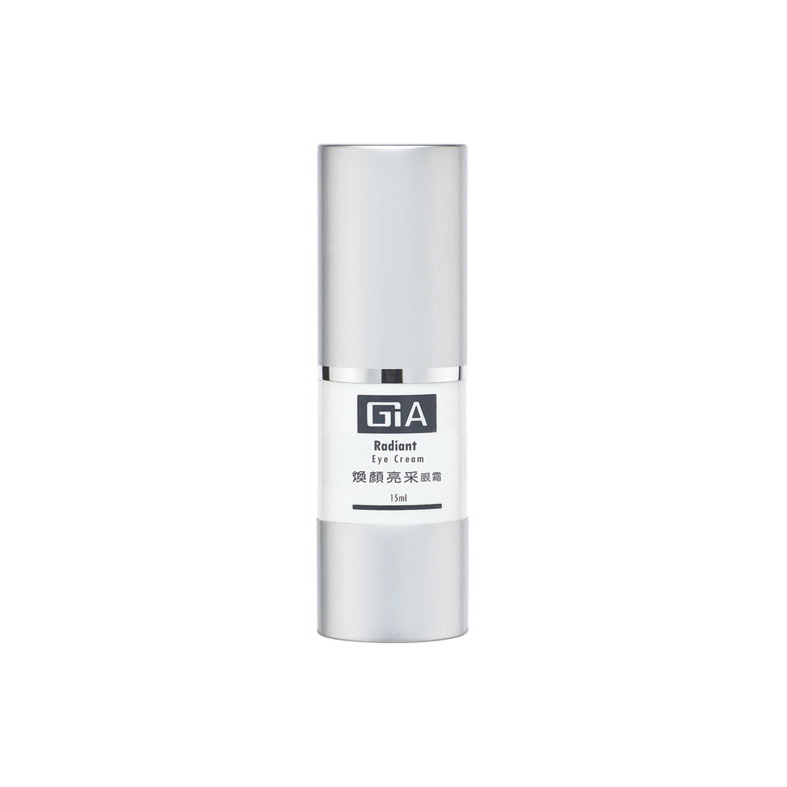 GIA Radiant Eye Cream
Price: NT3,980
Tax included price: NT3,980
No. 1021100021
In stock
Description
Radiant Eye Cream effectively firms the skin around the eye area, improves dullness, moisturizes
deep into the epidermis, and prevents aging. The reinforced protection mechanism fights against the
persistent damages from the external environment, and the optical soft-focus technology gives the skin
around the eyes an instant brightening effect.
《Globularia cordifolia extract》Globularia cordifolia extract brightens the skin, repairs minor flaws,
and prevents premature aging by inducing the cells to reduce toxin accumulation, sooth local inflammation, and stimulate cell detoxification to extend the life cycle of the cells.
《Cycolopeptide-5》Stably and speedily penetrates deep into the epidermis layer without the help of
the iontophoresis treatment. It effectively inhibits generation of the damaging collagen protease III and elastase II A and at the same time induces production of collagen IV and Mucins IV A to improve skin elasticity and eliminate wrinkles for the best anti-aging effect.
《Esculoside™》For facilitating and improving local blood circulation, fading dark spots on skin, and
firming as well as smoothing wrinkled skin.
《Cerasome oxygen》For prompting liquid-and-gas exchange, and in addition to accelerating and
activating the full absorption of other ingredients; useful to applications related to empowering skin, anti-aging and anti-wrinkle such as moisturization, anti-inflammatory activity, inhibition to Elastase, shielding from free radicals, and caring for sensitive skin.
《Ectoin》For protecting skin from dry air, changeable temperature and pressure, toxins, cleansers and
UV so as to retain water in the cells.
《Bis-ethylhexyl hydroxydimethoxy benzylmalonate》With ultimate antioxidant capacity, and
long-lasting UV absorption potential.
《Ceramide》Can keep water molecules in the skin and make skin soft, smooth and hydrated to make
the face brighter and younger.
《Disodium Lauriminodipropionate Tocopheryl Phosphates》Enhances the skin's resistance to the
external environment and reduces erythema and irritation after exposure to ultraviolet rays.
《Witch hazel distillate》For firming the skin, lightening skintone, regulating sebum, refining pores;
suitable to oily skin while also applicable to sensitive skin.
《Hyaluronic Acid》For providing long-term moisturization to the epidermis, cuticle and corium while
nourishing and softening skin.
《Rosa centifolia flower extract / Glycerine / Hydrolyzed jojoba / Mannitol, Erythritol, Betaine,
Homarine / Pearl extract》For reinforcing skin and strengthening other ingredients in moisturization.
《Borage Oil / Evening Primrose Oil / Rosehip Oil…etc》To repair continuously sunburned, darkened,
dry, aging and wrinkled skin.
《Matricaria chamomilla/Lavender/Rose essential oil》For providing fragrance while reducing edema
and scars, strengthening tissues and improving sensitive skin.
《Cadriospermum halicacabum, Echium plautagineum, Helianthus annuus extract / Salix alba bark
extract》Supply several anion nourishments to repair damaged skin and prevent irritation and inflammation.
《Sodium potassium aluminum silicate, titanium dioxide, silica》The advanced spherical powder coating
technology effectively fills fine lines to create a smooth skin surface, and the special optical soft- focus effect instantly gives the skin a wrinkle-free look, as well as a comfortable, refreshing, and silky-smooth feel.
《Unique low-temperature "microemulsion" technology》The activity of all effective ingredients is
completely maintained; excellent expandability as well as permeability are achieved, resulting in this tender and refined cream that gives you the best experience to the touch.