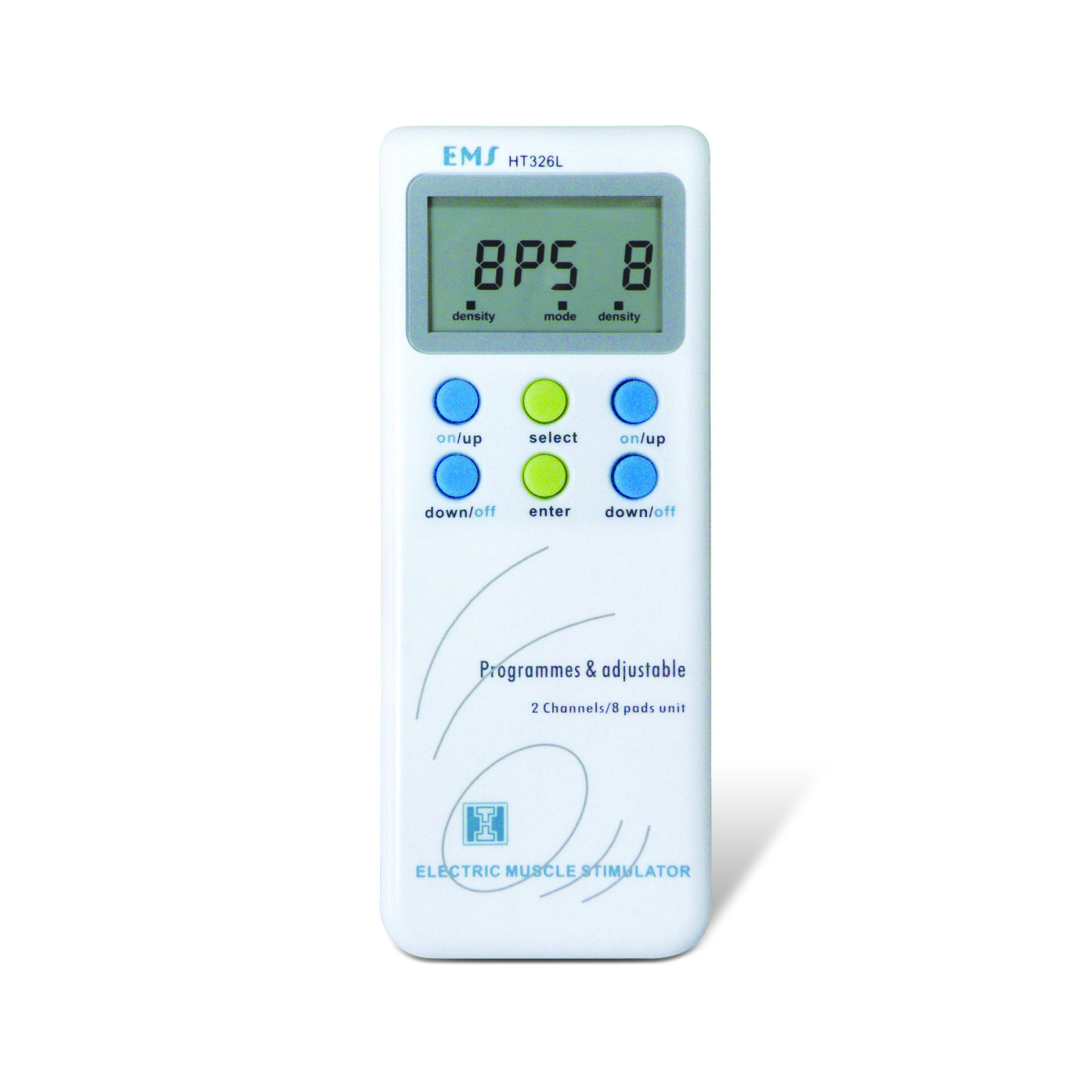 HT326L series Low Frequency Stimulator
Description
Product Introduction
Features & Functions :
Effective in helping to manage particular pain problems.
Use to assist treatment of headache, toothache, back pain, tennis elbow, sport strains and muscle injuries.
Relieving soreness in the applied area.
Helps to strengthen and tone muscles.
When the unit starts operation or the program has been changed. The intensity level ("density") will return to "0" .
When the unit starts operation, the intensity ("density") output has been designed with a gradual 3 seconds raise ramp.
When timer has reached 0 min. Unit will auto-shut down. The unit can remember last setting.
If intensity levels ("density") are at "0" and unit is not being used, it will automatically shut down after 3 mins.
P1~P9 timer is programmed 30 mins with backward count down.
Screen will exchange display timer/mode/on time/rate/off time/density ("density"=intensity) every 3 secs.
The unit is designed with a buzzer to assist operation.
Specifications :
Dimension
150 x 60 x 21 (mm)
Channel
two independent channels
Power supply
1.5V (size AA) battery x 3 pcs
Output
0~100mA P to P into 500Ω load
Density(Intensity)
change of 15 steps pulse amplitude
Timer
30 or 01~99 minutes backward count
Wave form
dual phases square wave
Display
timer/mode/on time/rate/off time/density ("density"= intensity)
Mode
P1~P5 TENS massager,P6~P9 fitness EMS
the final P0 fully adjustable program
Rate:1Hz~120Hz
timer:1~99 minutes
Contraction(on time):1sec.~30sec.
Relaxation (off time): 0sec.~30sec.
Ramp up
3 seconds
Buzzer
3 different reminders
1.Correct single beep
2.Pay attention triple beep
3.Mistake continue beep
Output load detect
alarm in operation without connect lead wire
Pulse wave form
Standard Accessories :
| | |
| --- | --- |
| Electrical Stimulator | 1 |
| Stimulator Lead Wire | 2 |
| Self Adhering Electrode | 4 |
| Operating Manual | 1 |
| 1.5V(SUM#3) Battery | 3 |
| Reusable Package Box | 1 |
TENS electrode application areas :
Indicator and Controls: :