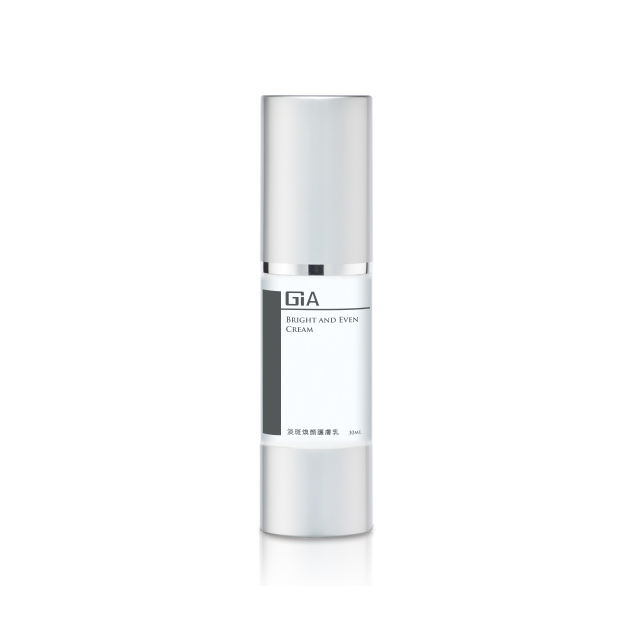 GIA Bright And Even Cream
Price: NT1,980
Tax included price: NT1,980
No. 1021100021
In stock
Description
Contains a variety of precious ingredients, which provide clear and effective all-round
conditioning, targeting skin aging, pigmentation and other skin problems. It also acts
as a blemish concealer gives a soft focus for makeup use, and shields the skin.
《Lumisphere(diacetylboldine) 》With the instant functions of soft focus, as a blemish concealer for makeup
use, the skin becomes brighter , more delicate, and whiter. It lightens the skin and produces an even skin tone, thus
reducing pigmentation, and inhibiting tyrosinase activity and the synthesis of melanin.
《Humulus Lupulus Strobile》By inhibiting communication between keratinocytes and melanoma cells through
cytokine, inflammation can be controlled, and the number of melanocytes and melanin synthesis can be reduced.
《Bis-ethylhexyl hydroxydimethoxy benzylmalonate》With ultimate antioxidant capacity, and long-lasting
UV absorption potential.
《Revidrate》By maintaining the moisture and lipid balance in the epidermis, Revidrate helps the skin to regenerate
skin's natural moisturizing factors and keep the skin in a long-lasting moisturized state.
《Hyaluronic Acid》For providing long-term moisturization to the epidermis, cuticle and corium while nourishing and
softening skin.
《Vitamin E》Vitamin E delays cell aging, prevents scaring, helps skin healing, fights against oxidation, and reduces
melanin deposits.
《Rosa gallica flower extract / Glycerine / 1.3 Butylene glycol》Can enforce the hydrating function of
main material and protect skin from UV Rays.
《Borage oil/ Evening Primrose oil/ Rosehip oil…etc》To repair continuously sunburned, darkening, dry,
aging and wrinkled skin.
《Cadriospermum halicacabum /Echium plautagineum /Helianthus annuus extract /Salix alba
bark extract》Supply several anion nourishments to repair damaged skin and prevent irritation and inflammation.
《The multi-layer coating protective powders include Titanium dioxide, Zinc Oxide, Iron
oxides, Manganese-titanium dioxide, etc.》It provides a soft focus, acts as a blemish concealer, polish,
and sunscreen, presents a made-up look, and retains the effects of the main ingredients.
《Sodium potassium aluminum silicate, titanium dioxide, silica》The advanced spherical powder
coating technology effectively fills fine lines to create a smooth skin surface, and the special optical soft- focus effect
instantly gives the skin a wrinkle-free look, as well as a comfortable, refreshing, and silky-smooth feel.