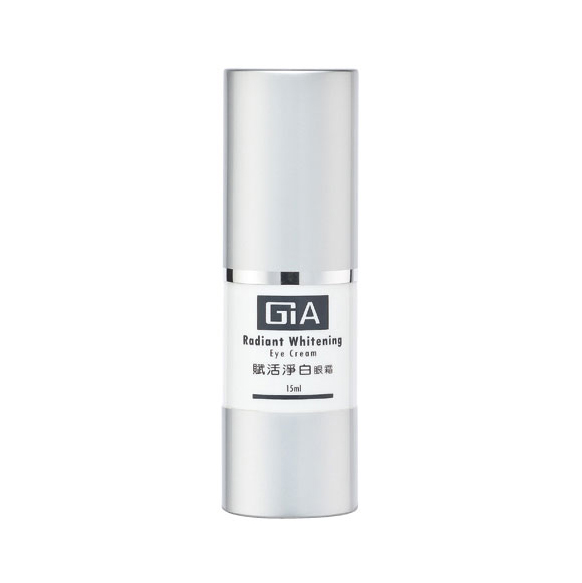 GIA Radiant Whitening Eye Cream
Price: NT4,600
Tax included price: NT4,600
No. 1020900006
In stock
Description
With the full course of the patented innovative and unique low-temperature "microemulsion" technology, the activity of all effective ingredients is completely maintained; excellent expandability
as well as permeability are achieved, resulting in this tender and refined cream that gives you the best experience to the touch.
《HaloxylTM》For strengthening and modulating the firmness of skin around the eyes, and facilitating
composite iron ions in whitening skintone around the eyes.
《Licorice extract》Containing 40% glabridin, is powerfully resistant to Tyrosinase and excels at
whitening, preventing UV absorption- blocking sun, alleviating irritation, inhibiting germ activity and
resisting to oxidative free radicals.
《Esculoside》For facilitating and improving local blood circulation, fading dark spots on skin, and
firming as well as smoothing wrinkled skin.
《Hazardous extract/Siegesbeckiae herba extract》For improving skin elasticity and smoothness,
reducing wrinkles in depth and amount, fading skin melanin in chromophores, and improving
hemoglobin and collagen.
《Cerasome oxygen》For prompting liquid-and-gas exchange, and in addition to accelerating and
activating the full absorption of other ingredients; useful to applications related to empowering skin,
anti-aging and anti-wrinkle such as moisturization, anti-inflammatory activity, inhibition to Elastase,
shielding from free radicals, and caring for sensitive skin.
《Ectoin》For protecting skin from dry air, changeable temperature and pressure, toxins, cleansers and
UV so as to retain water in the cells.
《Ceramide》For retaining and capturing water molecules, inhibiting Elastase, shielding from free
radicals, and softening as well as brightening skin.
《Collagen》As the primary binder in human connective tissue with large molecular weight and superior
to polyhydric alcohols in moisturization, for supporting the cells, being efficient in moisturizing and
refreshing skin, and inducing tissue regeneration.
《Hyaluronic Acid》For providing long-term moisturization to the epidermis, cuticle and corium while
nourishing and softening skin.
《Witch hazel distillate》For firming the skin, lightening skintone, regulating sebum, refining pores;
suitable to oily skin while also applicable to sensitive skin.
《Rosa centifolia flower extract/Hydrolyzed jojoba/Glycerine》For reinforcing skin and strengthening
other ingredients in moisturization.
《Borage oil/Evening primrose oil/Rosehip oil》For sunburn, pigmentation, dryness, and aging or
wrinkled skin in the long term.
《Matricaria chamomilla/Lavender/Rose essential oil》For providing fragrance while reducing edema
and scars, strengthening tissues and improving sensitive skin.
《Salix alba bark extract/Cadriospermum halicacabum/Echium plautagineum/Helianthus annuus
extract/Vitamin E》For quickly easing dry and uncomfortable skin and providing anti-inflammatory
activity, shielding from free radicals and protecting sensitive skin.